Welcome back home
We shall be posting some guidelines and announcements for the reopening of First Sunday English Mass in Chibadera Catholic Church beginning July 12,2020 and onwards.
1.Sunday English Mass schedule is as is: 2nd Sunday, 3rd Sunday, 5th Sunday of the month at 2:00 pm. There is a limited number of mass attendees of the stage 3 Covid restriction where we are now. The advised number is 40 mass participants or if exceeds, a maximum of 48 people only. First come, first attend basis.
2.Children up to 12 years old and younger may sit together with their parents. Older than 12 years old kindly take another seat. 75 years old and above; and those younger with ailments, kindly stay at home to pray especially in this stage 3 Covid restrictions.
3.PROCESS to ENTER the Church:
First is, once you arrived, a staff will check your body temperature.
Second, you disinfect your hand.
Third, fill out ALL INFORMATION we need on the sheet in case of cluster infection. We reserve the right to ask you fill out all the needed information. You WILL BE OBLIGED TO DO same format every english mass. Even though we have the list, we need you to write it personally.
Since the church entry process before mass takes time, all are advised to come not later than 30 minutes before mass starts for proper decorum. 5 MINUTES before mass starts, all process of church ENTRY ENDS.
4. DURING MASS
a) No offering boxes will be circulated. But they are found and the entrance and exist of the church. We leave at your disposal and generosity.
b) No choir, but short organ accompaniment or mass songs instrumental record may be allowed with no lyrics brief enough during entrance, communion and recessional.
c) Please do the sign of peace without body contact.
d) Communion will be received by hand. A staff will guide you in receiving communion either by pew or row. Designated return routes must be observed.
e) Bring home the misalette you have used. In this stage 3 of Covid restrictions, we discourage any form of gathering at the hall. Kindly wait until further notice.
Blessings and graces!
---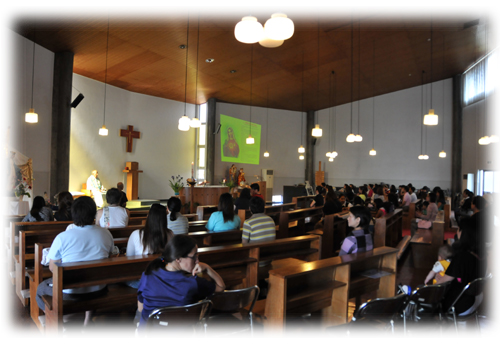 2010/05/09 English Mass.
Attention For the drivers
Do not block the driveway. (Red area in photograph.)
HUWAG PARADAHAN ANG PRIBADONG DAAN.
NO DEJAR VEICULOS EN ESTA CALLE.
Free Telephone Consultation for Victims of Earthquake
・

被災外国人のための無料電話相談
・

Free Telephone Consultation for Victims of Earthquake
・

為受災外籍士的免費電話咨詢